Esta mañana en una de las acostumbradas charlas con el muso, me di cuenta de que este mes cumplo 20 años de admirar y ser beatlemaniaco de hueso coyoyayo.
Era 1987, contaba yo con 14 añitos, cuando mi prima Claudina vió una pelicula documental llamada «The complete Beatles». Gustosa como su servidor, de la buena música, quedó impactada… tánto que, posteriormente al descubrir que su mamá tenia un viejo disco, la edición mexicana del soundtrack de A hard day's night, con un titulo pendejo asignado por Capitol de Mexico «YEA YEA YEA!», procedió a mandarme una copia en cassette.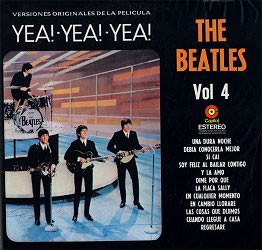 Lo escuche con atención. El sonido me era algo familiar ya que mi hermano habia tenido una breve epoca beatle y yo escuchaba junto con el el único disco que tenia.

Despues tuve la suerte de encontrar el mentado documental en renta, y BOOM! … Quede enganchado. Me impactó la variedad de estilos por los que pasaron, todos sin dejar de ser ellos mismos. Una verdadera mina de oro para quien, como yo, ávido de buena musica, y curioso hasta la pared de enfrente.

Hoy, a 20 años de haber empezado una incesante busqueda de material, tanto de audio como de videos, libros, revistas, posters, etc., aun me siguen sorprendiendo, y aun sigo encontrando nuevos detalles, en los discos que he escuchado y vuelto a escuchar hasta el cansancio.

¿Musica comercial? Sin duda. Pero existe una gran diferencia entre la música comercial de ahora, y la que se hacia hace 40 años. Nadie puede negar (aunque se que habra un caon criticon oriundo de la Madre Patria, que me chingará por esto), que The Beatles marcó una huella tanto en música como en la cultura occidental. Y todo eso, prácticamente sin querer, como suele suceder con los Grandes en todos los aspectos.

Quien traiga la musica en las venas, y quiera adentrarse en ella, el colorido de los 13 albumes y varios singles de The Beatles es un inicio perfecto para tal fin.

¡Déjame tu mentada!