Tal parece que hoy en día lo retro se ha puesto de moda. Yo soy un vivo ejemplo de la onda retro, pero no por moda, sino por gustos musicales y así he sido toda mi remarunga vida. Para mí, la música que trasciende es atemporal. Pero solo esa. Me di cuenta cuando un buen amigo mio puso 'Kiss me' de Sixpence none the Richer (uno de tantos grupos one hit wonder), y emití un «UUUUUUUUUHH TRAES LAS DE MODA!». Aquellos inicios del 2000…
Sin embargo, yo escucho a mis Bitles y no siento que este escuchando algo viejo o pasado de tueste.
En fin, me salí de tema. Volviendo a la moda retro. Al parecer se ha llegado a la conclusión de que el CD de audio, a pesar de todas las supuestas ventajas con la que nos lo vendieron hace ya 20 años no le llega a la altura del viejo LP.
Los argumentos son consistentes. El CD solo capta sonidos de X a Y frecuencia. En cambio, el LP capta un sinnúmero de sonidos que, a pesar de que no los escuchamos en primer plano, le dan al sonido un carácter o ambiente distinto. Esto sin contar que, muchas veces, los grupos de rock (como los bitles por ejemplo) grababan de manera intencional sonidos de frecuencias distintas a las normales; ya fuera por darle un toque distinto a la rola, o simplemente por hacer la maldad de inquietar al pobre perrito que estuviera al lado del tocadiscos, como en «A day in the life» del magistral album Sgt. Pepper.
Todo este rollo viene a que Sony acaba de sacar un aparatito bastante llamador de mi atención. Nada menos que una tornamesa (tocadiscos pa los compas). Si, aquel extraño dispositivo que iba encima de todos los equipos de sonido de hasta principios de los 90s, con un plato giratorio de 30 cm. y un brazo con aguja de diamante. Con el único avance tecnológico de poderse conectar directamente a tu computadora por medio del puerto USB.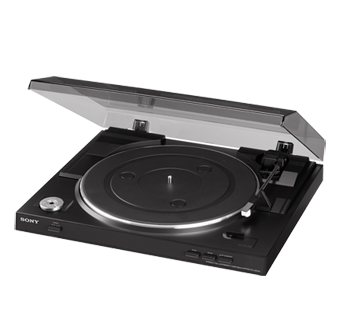 Este puede ser un magnífico regalo para quien, como yo, aún conserva los viejos LPs de sus grupos favoritos y quiere escuchar ese sonido tan característico, y en ocasiones tan diferente a las versiones de CD, y por supuesto, convertirlo a formato de computadora, y llevar tus preciados tesoros en tu iPod sin perder ni el sonido del pandero que tocaba Ringo con una mano mientras se sacaba un moco con la otra.

Todo por el módico precio de $149 dólares.

Me duele la cartera :'(

¡Déjame tu mentada!